Welcome to Bite My Wood Online
Once upon a time in the heart of America, there lived a family of entrepreneurs who were passionate about creating healthy and sustainable products. They were also huge fans of toothpicks, especially flavored ones.
One day, they had an idea: to create a brand of all-natural flavored toothpicks that were good for your teeth and gums, and also tasted delicious.
They called their brand BiteMyWood, and they set out to develop five all-natural flavors that everyone would love. After years of trial and error, they finally perfected their recipes, and BiteMyWood was born.
The five all-natural flavors of BiteMyWood toothpicks are:
Cinnamon
Cinnamint
Eucalyptus
Mint
Wintergreen
Each flavor is made with essential oils and other natural ingredients, and they are all free of artificial flavors, sweeteners, and colors.
We currently manufacture and distribute all natural flavored and non bleached high quality USA made Birchwood toothpicks in single decorative cut and double point.

Our brand is a product that you may want to carry daily.
We don't sell toothpicks; we sell an alternative to your everyday lifestyle products.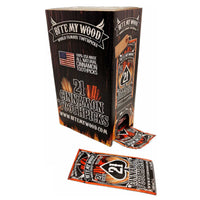 Retail Ready Point Of Sale Displays - 48 Pack Box
Order Now and Put In Your Location
#SmokeFree,#SmokeCessation,#QuittingSmoking,#NaturalToothpicks,
#EssentialFlavored,#USAmade,#BirchWood,#SmokingCessation,#SmokingFree,
#SmokeFreeLife,#QuitSmoking,#SmokeNoMore,#RetailDisplay,#PointOfSaleDisplay

The perfect palette changer - Don't grab for that pack after food or alcohol or when you get in the car. Perfect for after seafood, coffee, alcohol or garlicky foods/snacks
Buy Now
Please Note: BiteMyWood and our wood flavored toothpicks ARE NOT a pharmaceutical company and do not produce medical products. 
WARNING:Not to be sold or used by persons under the age of 13 years. Keep cartridges and packs locked up and out of reach and sight of children and pets as they are dangerous if swallowed. If you have a health history or conditions exist, please consult your doctor prior to use.